Unova Route 5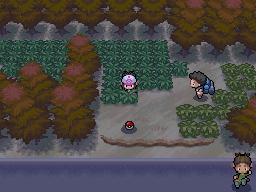 Route 5 is a short roadway between Nimbasa City and Driftveil Drawbridge in Unova. However, the Driftveil Drawbridge won't be lowered until you beat the Nimbasa City Gym.
This is the first place you'll meet Alder, the Champion of the Unova region. He questions Cheren on his desire to become strong, but Cheren can't fully answer Alder's questions yet.
Rival


Cheren
Tranquill
Level 24

 
Liepard
Level 24

Starter: Snivy
Starter: Tepig
Starter: Oshawott
Pignite
Level 26

Dewott
Level 26

Servine
Level 26

Pansage
Level 24

Pansear
Level 24

Panpour
Level 24

The maid in the campervan here will buy some food items, some of which can't be sold anywhere else.
| | Item(s) |
| --- | --- |
| 20 | Common Berries |
| 100 | Sweet Heart |
| 200 | Fresh Water, Leftovers, Lucky Egg, Stick |
| 300 | Soda Pop |
| 350 | Lemonade |
| 500 | Uncommon Berries, Honey, Moomoo Milk, TinyMushroom |
| 1,500 | Berry Juice |
| 2,000 | Casteliacone |
| 4,000 | Lava Cookie, Old Gateau |
| 5,000 | Big Mushroom |
| 6,000 | RageCandyBar |
| 7,000 | Shoal Salt |
| 10,000 | Rare Candy |
| 25,000 | BalmMushroom |
| 30,000 | Extremely rare Berries |
Black and White Versions 2
[
edit
|
edit source
]
Gothita (Black only)
Liepard
Minccino
Solosis (White only)
Trubbish