Subway Boss Emmet
Subway Boss Emmet (Japanese: サブウェイマスタークダリ Subway Master Kudari) is a character that first appeared in Pokémon Black and White and is one of the bosses of the Battle Subway, sharing the title with his twin brother, Ingo.
Emmet is the boss of the Double and Super Double lines of the Battle Subway and appears after 20 and 48 consecutive wins. His twin brother, Ingo, runs the Single and Super Single lines and teams up with Emmet on the Multi and Super Multi battle lines.
In Pokémon Black 2 and White 2, the player fights Ingo and Emmet outside the Battle Subway with the opposite gendered player character.
| BW battle sprite | B2W2 battle sprite |
| --- | --- |
| | |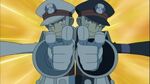 In Beheeyem, Duosion, and the Dream Thief!, Emmet, Ingo, and the gang find out about Team Rocket's flipping of the switches on the Subway. In The Beartic Mountain Feud!, he and Ingo went to find out what was causing trouble and spotted Jessie and James before they disappeared.
In Crisis from the Underground Up! and Battle For The Underground!, they met Ash, Iris, and Cilan when the subway stopped. The gang realized that Pokémon were stolen from the Pokémon Center. Emmet and Ingo decided to help get the Pokémon back and defeat Team Rocket and succeeded.
In Lost at the Stamp Rally!, Emmet, his brother and the gang reunited Erina and her lost Axew. As a reward, he and Ingo challenged Ash and Cilan to a tag battle. Despite trying their hardest, Ash and Cilan were defeated by Ingo and Emmet's combos.
Ingo and Emmet appeared in BW101 in a flashback. He and Emmet were seen tag battling Soran and Rīku and lost.
Emmet calls Ingo big brother in the Japanese version, indicating he is the older of the twins.
20 consecutive wins
48 consecutive wins
20 consecutive wins
Subway Boss Ingo
Subway Boss Emmet

[[]]
[[File:{{{P3}}}_BW.gif|link={{{P3}}}|80x80px]]
 ???
Lv. -
-
Ability:
None
Item: None
-
-
-
-

[[]]
[[File:{{{P4}}}_BW.gif|link={{{P4}}}|80x80px]]
 ???
Lv. -
-
Ability:
None
Item: None
-
-
-
-

[[]]
[[File:{{{P3}}}_BW.gif|link={{{P3}}}|80x80px]]
 ???
Lv. -
-
Ability:
None
Item: None
-
-
-
-

[[]]
[[File:{{{P4}}}_BW.gif|link={{{P4}}}|80x80px]]
 ???
Lv. -
-
Ability:
None
Item: None
-
-
-
-
48 consecutive wins
Subway Boss Ingo
Subway Boss Emmet

[[]]
[[File:{{{P3}}}_BW.gif|link={{{P3}}}|80x80px]]
 ???Fire 
Lv. -
-
Ability:
None
Item: None
-
-
-
-

[[]]
[[File:{{{P4}}}_BW.gif|link={{{P4}}}|80x80px]]
 ???
Lv. -
-
Ability:
None
Item: None
-
-
-
-

[[]]
[[File:{{{P4}}}_BW.gif|link={{{P4}}}|80x80px]]
 ???
Lv. -
-
Ability:
None
Item: None
-
-
-
-
Normal Mode
Subway Boss Ingo
Subway Boss Emmet

[[]]
[[File:{{{P2}}}_BW.gif|link={{{P2}}}|80x80px]]
 ???
Lv. -
-
Ability:
None
Item: None
-
-
-
-

[[]]
[[File:{{{P3}}}_BW.gif|link={{{P3}}}|80x80px]]
 ???
Lv. -
-
Ability:
None
Item: None
-
-
-
-

[[]]
[[File:{{{P4}}}_BW.gif|link={{{P4}}}|80x80px]]
 ???
Lv. -
-
Ability:
None
Item: None
-
-
-
-

[[]]
[[File:{{{P2}}}_BW.gif|link={{{P2}}}|80x80px]]
 ???
Lv. -
-
Ability:
None
Item: None
-
-
-
-

[[]]
[[File:{{{P3}}}_BW.gif|link={{{P3}}}|80x80px]]
 ???
Lv. -
-
Ability:
None
Item: None
-
-
-
-

[[]]
[[File:{{{P4}}}_BW.gif|link={{{P4}}}|80x80px]]
 ???
Lv. -
-
Ability:
None
Item: None
-
-
-
-
Challenge Mode
Subway Boss Ingo
Subway Boss Emmet

[[]]
[[File:{{{P2}}}_BW.gif|link={{{P2}}}|80x80px]]
 ???
Lv. -
-
Ability:
None
Item: None
-
-
-
-

[[]]
[[File:{{{P3}}}_BW.gif|link={{{P3}}}|80x80px]]
 ???
Lv. -
-
Ability:
None
Item: None
-
-
-
-

[[]]
[[File:{{{P4}}}_BW.gif|link={{{P4}}}|80x80px]]
 ???
Lv. -
-
Ability:
None
Item: None
-
-
-
-

[[]]
[[File:{{{P2}}}_BW.gif|link={{{P2}}}|80x80px]]
 ???
Lv. -
-
Ability:
None
Item: None
-
-
-
-

[[]]
[[File:{{{P3}}}_BW.gif|link={{{P3}}}|80x80px]]
 ???
Lv. -
-
Ability:
None
Item: None
-
-
-
-

[[]]
[[File:{{{P4}}}_BW.gif|link={{{P4}}}|80x80px]]
 ???
Lv. -
-
Ability:
None
Item: None
-
-
-
-