Koga
"Fwahahahaha! I am Koga of the Elite Four. I live in shadows--a ninja! My intricate style will confound and destroy you! Confusion, sleep, poison... Prepare to be the victim of my sinister techniques! Fwahahahaha! Pokémon are not merely about brute force--you shall see soon enough!"
— Koga, Pokémon HeartGold and SoulSilver.

Koga (キョウ Kyō) served as the Gym Leader at the Fuchsia City Gym. Two years later, during the Generation II games, Koga became a member of the Elite Four and his daughter, Janine took over the gym and used poison Pokémon as well.
He specializes in Poison-type Pokémon, and as a Gym Leader gave out the Soul Badge for trainers that could defeat him.
Koga first appeared in the Generation I games as the Fuchsia City Gym Leader. His gym was constructed with an array of invisible walls, fashioned into a maze. This forces the player to walk through the maze fighting Gym members, with the destination in the middle where Koga awaits.
Later, in the Generation II games, Koga has been promoted to Elite Four status. With the absence of a Gym Leader at Fuchsia Gym, Koga leaves the Gym under his daughter's care, Janine, making her the new Gym Leader.
In the remakes of the original games, Pokémon FireRed and LeafGreen, Koga is once again a Gym Leader, as it takes place during the same time period. The only difference is the level of his Weezing, and his updated appearance.
| RB Battle Sprite | Y Battle Sprite | GSC Battle Sprite | FRLG Battle Sprite | HGSS Battle Sprite | Vs Sprite |
| --- | --- | --- | --- | --- | --- |
| | | | | | |
Koga appeared in the episode The Ninja Poké-Showdown, where Ash and company stumble across his Gym. Not appearing until later in the episode, Ash can only find a plethora hidden traps within the gym, and then later Koga's sister Aya. After the appearance of Koga, and a small incident with Team Rocket, Koga and Ash finally have their battle, uninterrupted.
The two have a one-on-one battle, with
Ash
using his
Charmander
, and Koga using his
Golbat
. Initially having some trouble,
Charmander
was unable to hit the
Golbat
, but after using
Fire Spin
,
Ash
was the victor. Upon leaving Koga rewarded Ash with the
Soul Badge
.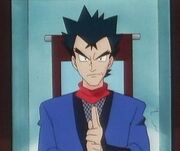 In the Pokémon Adventures Koga is an executive for Team Rocket and along with Sabrina and Lt. Surge he fights Red to prevent him from interfering, but, as usual, this results in failure.
Gold, Silver and Crystal Arc
[
edit
|
edit source
]
It was shown that he has a daughter who worried about him because he wasn't seen for a long time.
Crobat

  
Lv. 44

♂

Ability: None
Item: None
Double Team
Wing Attack
Quick Attack
Toxic
Crobat

  
Lv. 44

♂

Ability: Inner Focus
Item: Sitrus Berry
Double Team
Wing Attack
Quick Attack
Poison Fang
Venomoth

  
Lv. 63

♂

Ability: Tinted Lens
Item: None
Baton Pass
Double Team
Silver Wind
Psychic

Crobat

  
Lv. 64

♂

Ability: Inner Focus
Item: None
Cross Poison
Fly
Mean Look
Toxic

Gym Leader Castle Round 2
Lanturn

  
Lv. 50

♂

Ability: None
Item: Quick Claw
Double Team
Toxic
Confuse Ray
Thunderbolt

Ariados

  
Lv. 50

♂

Ability: None
Item: Focus Band
Spider Web
Psybeam
Baton Pass
Double Team
Venonat→Venomoth
Koga's Venonat evolved into Venomoth before his first battle with Ash began. It easily defeated Ash's Pidgeotto. It's known moves are Stun Spore and Sleep Powder.
Golbat
Koga used his Golbat during the second round of Ash's Gym Battle. It lost to Ash's Charmander, thus earning Ash the Soul Badge. It's known moves are Wing Attack and Screech.
Voltorb
These Pokémon were used for making quick escapes like smoke bombs.
English: Stan Hart
Japanese: Hōchū Ōtsuka
Polish: Radosław Popłonikowski
Spanish: Juan Fernandez
Iberian Spanish: Gerardo Vasquez
Main article: Koga/Video
In a Pokemon card related to Koga, called Koga's Ninja Trick, there is a symbol that looks similar to a Swastika. However, it is actually totally different, in positioning and in meaning. A Swastika is in a diamond angle, and the points on it point clockwise; the symbol depicted on the card was in a square angle, and the points were counterclockwise. The symbol on the card was of a different culture and was many years before the Nazi Party, and meant "peace". When the card was released in the U.S., it was changed to a different symbol.