Flying Pokémon Shadows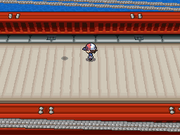 Flying Pokémon shadows are shadows of Pokémon or items introduced in Generation V, alongside rustling grass, dust clouds, and rippling water.
When traveling on either Driftveil Drawbridge or Marvelous Bridge, one may see a shadow of a flying Pokémon on the ground. If one steps into it, one will either find a wing or encounter a rare Pokémon.