Cameron
Cameron (Japanese: コテツ Kotetsu) debuted in BW095: Goodbye, Junior Cup - Hello Adventure! with his Riolu. He originally wanted to compete in the Pokémon World Tournament Junior Cup, but arrived too late. He desired to compete in the Unova League but found, much to his dismay, that eight badges were required to enter, not the seven that he had. He also incorrectly believed that the Unova League was going to be located in Ecruteak City, Johto.
Riolu → Lucario
It appeared alongside Cameron during his various appearances throughout episodes outside of its Poké Ball.
Swanna
Swanna was used in Cameron's match against Ash in the Unova League. Despite a major type disadvantage, Swanna was sent out against Pikachu and quickly lost when it was hit by Electro Ball. Known moves: BubbleBeam, Pluck and Wing Attack.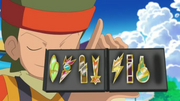 3 other unnamed badges
Two of Cameron's unnamed badges were also earned by Trip.