AG030: A Meditite Fight!
"A Meditite Fight!"




バトルガールとアサナン!嵐の中で!

Episode Code
AG030
Season
Pokémon: Advanced
Japanese
Air Date
United States
Air Date
 June 19, 2003
 May 8, 2004
Badge(s)
Chronology
Synopsis
As Ash prepares for his rematch with Brawly, he, May, Max and Brock meet a Battle Girl by the name of Shauna, whose reason for battling was to prove she was better than Ash. During their battle Brock noticed that while Ash's training was paying off Shauna battled like Ash used to. Just as the match was about to be decided Brawly appears with some mondo bad news: A hurricane was approaching which could wipe out the beach. Can our heroes manage to weather the storm, and why is Shauna so nervous around Brawly?
Trivia
Shauna says "Cowabunga", the catchphrase of Michelangelo from the 1980's Teenage Mutant Ninja Turtles.
Errors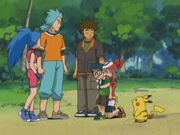 For a short while, Ash disappeared after Brawly mentioned the hurricane.
Shauna was barefoot when she introduces herself, and later she was wearing shoes.
Quotes
Shauna: "You stop!"
Ash: "Why won't you hold Brawly's hand?"

May: "Yeah, you're his girlfriend, aren't you?"
Shauna: "Ah!"
Brawly: "Girlfriend? What's that about?"
Shauna: "ALL RIGHT! I'm going to be someday!"
Everyone but Brawly gasps.
Brock: "So I take it you're not his top apprentice either."
Shauna is ashamed.